From June 21st through the last weekend in September, Piney River Ranch is more than just a quiet place to kick back in front of a spectacular view. In fact, we offer an array of activities at the ranch, on the water, and in the thousands of acres of backcountry that surrounds us. From canoeing on Piney Lake with the family, fly-fishing on the Piney River, or hiking to Piney Falls we've got an adventure for everybody. Visit here for a video tour.
Canoeing & Stand-up Paddleboarding
Piney River Ranch offers guests the opportunity to explore Piney Lake in a canoe or SUP, starting at $30 per hour. This includes paddles, life vests, and instruction. Rentals are on a first-come, first-served basis, and reservations are only accepted for large groups. Please note that disruptions in Piney Lake activity may be experienced due to wedding ceremonies and other large events.
Piney Lake Rental Rates
Canoe Rental: $30/hour, $90/4 hours
Stand-Up Paddleboard: $30/hour
Fishing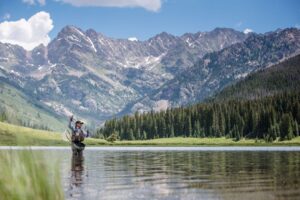 Piney Lake is a longtime Colorado favorite destination for lake fly fishing. Nestled at the base of the remote and rugged Gore Range and surrounded by the Eagle's Nest wilderness, Piney Lake is the trout-laden gem of Eagle County.
Piney River Ranch anglers can chase almost every species of trout found in Colorado (Brookies, Browns, Cutthroat, and Rainbow trout), in almost every way imaginable. Knowledgeable, professional staff will facilitate activities, from shore fishing to canoes and stand-up paddle boards.
Spin Rod and Reel Rental:  $20
Fly Fishing Rod and Reel Rental: $50
Please note: Fishing Licenses are required as this is a private lake. You can pick one up from Walmart, City Market and Safeway.
Hiking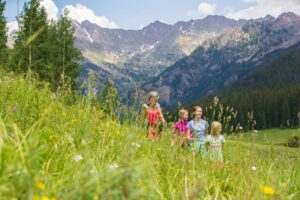 The Upper Piney trail begins at the end of Red Sandstone Road, outside of the Piney River Ranch entrance, and ends at Upper Piney Lake, and is roughly 7 miles each way. Begin your journey outside of the ranch (where public parking is available), pass Piney Lake and gently climb through an open meadow before entering the forest and reaching a cascading waterfall about three miles in. The average hiker will have no problem reaching the waterfall destination in about an hour and a half. However, the trail becomes less distinct and more difficult after the falls, and becoming steeper as it approaches Upper Piney Lake and takes you to Knee Knocker Pass. Beyond this, the Upper Piney River Trail provides access to Mt. Powell, peaking at 13,580' in elevation, and is also the highest summit in the Gore Range. Fewer people use the trail after the 5.5 mile mark, so exercise caution.